Handcrafted for eternity.
Since 100 years.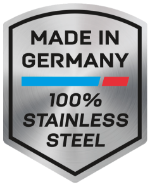 SCHARFEN SLICING MACHINES
Built to last
It's true, we have a centennial legacy of building the best professional slicing machines for any kinds of food products. While times have changed over the course, it's one thing that will last for good: our relentless commitment to providing customers with cutting edge food slicers unrivalled in performance, precision, durability, ease of use and food safety.
High End
PERFORMANCE
Our machines achieve maximum capacity with minimum compromise on material and engineering. They work with a reduced back stroke, perfectly aligned with the size of the slicing product and thus resulting in more slices per minute.
Extreme
PRECISION
Scharfen machines strive for a clean and consistent processing of your slicing products with zero waste. Our scale settings enable perfect product handling whether it is shaving turkey or slicing triple-thick cut bacon. Our carriage setup guarantees 100% use of the product.
Maximum
FOOD SAFETY
We never compromise on health and hygiene, even if it takes an extra mile in terms of mechanical engineering. All materials in contact with slicing products are premium stainless steel made in Germany, the finest environment for processing food. We especially design our machines for easy cleaning, to save you time and stay pristine.
Longlife
DURABILITY
Scharfen machines are built to last. As stainless steel keeps surfaces unsoiled for decades, we only use premium solid materials for all components in order to reduce the need for service to a minimum. Our mission is to keep your total ownership costs as low as possible.
A CENTENNIAL LEGACY
of cutting edge!
Clients in more than 80 countries around the world value us for our high-performance food slicing machinery. From big supermarket chains to hotels, hospitals, or catering, from large penitentiaries to retirement homes, from local whole food farm shops to your butcher or cheesery around the corner, they all have come to appreciate the convenience and longevity of our products »Made in Germany«. The secret to it? We listen closely to our customers' needs and requests. This has been our best driver of continuing innovation for a century.
Joe Adair, District Manager
DoubleDave's Pizzaworks, Texas
"We enjoy the machine immensely! Things are made easier by saving us time. It cuts our previous slicer time in half, with a quicker cycle to cycle time and cleaning process. The sharpening process is a breeze."
Joe Adair, District Manager
DoubleDave's Pizzaworks, Texas
"Wir sind grosse Fans der Scharfen Schneidemaschine. Der Schneideprozess wird erleichtert, indem wir Zeit sparen. Im Vergleich zu unserer bisherigen Schneidemaschine wurde der Aufwand halbiert, insbesondere durch schnellere Schneide-Zyklen und einem leichten Reinigungsprozess. Die Schärfung des Messers ist ein Kinderspiel."
Werner Schuth, Owner
Schuth Butchery, est. 1959, Cologne
"I am enthusiastic about my VA 4000. It works highly reliable, high volume processing is extraordinary, and it's much easier to clean than other slicers. I have recommended Scharfen to other specialist shops already."
Werner Schuth, Owner
Schuth Butchery, est. 1959, Cologne
"Ich bin begeistert von meiner VA 4000. Sie arbeitet sehr zuverlässig, die Verarbeitung großer Mengen läuft außergewöhnlich schnell, und die Reinigung ist deutlich einfacher als bei anderen Schneidemaschinen. Ich habe Scharfen bereits meinen bekannten Fachhändlern weiter empfohlen."
OUR PRODUCT LINE-UP
made of steel!