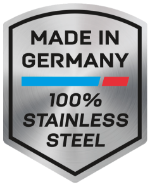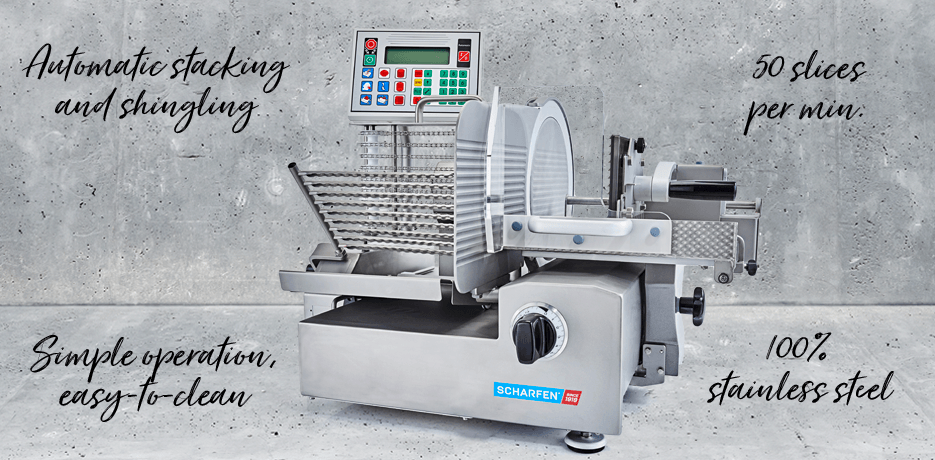 VA 4000
The turbo in automatic slicing
Features
Fully automatic slicing and stacking
Easy to operate, no clamping and re-clamping, quick and easy to clean
Robust and highly reliable, without electronic
Powerful motor for continuous operation for all kinds of food
1-year warranty
Overall Dimension (l x w x h)
670 x 565 x 660 mm
Counter Space Required (l x w)
580 x 390 mm
Knife Diameter
330 mm
Slice Thickness
0 to 10 mm (infinitely variable),
from 7mm on only with special deflector
Cutting Lenght
210 mm
Cutting Height
175 mm
Height of Stack
approximately 70 mm
Weight
approximately 75 kg
Power Requirement
0,6 kW
Voltage
3-phase or 1-phase, voltage and cycles as require
Speed or Carriage
40 strokes / min
Sound Level
<70 dB (A)
Sharpening Device
is removable
VA 4000 Teflon
Ideal for slicing cheese and fresh meat. Carriage, thickness plate, blade guard and blade are tefloned.
Easy and precise slicing, no smearing or sticking. Further advantage: quick and easy to clean with dry cloth.
Large Carriage
Ideal for slicing large products.
(l x w): 275 x 530mm.
Customization on demand.
Special End-piece Holder
Zero waste device. Guarantees 100% slicing output of the product.
Interleaver (VA 4000 P)
Connection to automatic interleaver and/or wrapping machines. Further information upon request.
With Conveyor Belt
Please see VA 4000 AT