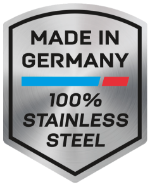 TC 11
Our commercial kitchen allrounder
Features
Perfect versatile machine for commercial kitchens
Ideal for cutting/mixing all types of food in a few seconds to produce salats, pastes, hummus, meatloaf, sausages, marzipan, etc.
Free wheel bowl for easy filling/emptying
Extremely robust with zero maintenance
Mechanic interlock while running (safety)
Only 100% stainless 11-liter cutter worldwide
1-year warranty
Overall Dimension (l x w x h)
Closed lit: 820 x 510 x 415 mm
Open lit: 995 x 510 x 540 mm
Counter Space Required (l x w)
670 x 370 mm
Cutter Bowl
11 litres content, made of stainless steel, due to free-wheel bearing bowl can be turned even if machine is switched off, therefore safe and easy to empty and clean
Bowl Speed
approx. 14 rpm
Sound Level
<70 dB (A)
Knife Assembly
standard 2-knife-execution, 3-knife as upgrade
Weight
55 kg
Voltage
3-phase or 1-phase, voltage and cycles as required, 2-speed
Power Requirement
1.2 kW for 1-speed version, 1.2/1.5 kW for 2-speed version
Hygiene
All materials in contact with food products are 100% stainless steel, very easy to clean components
Power Cutting 2-knife
top speed: 1-speed 2840 cuts/min.,
2-speed 5680 cuts/min.
Power Cutting 3-knife
top speed: 1-speed 4260 cuts/min.,
2-speed 8520 cuts/min.
TC 11 Combi
With second gear for accessory devices, further information upon request