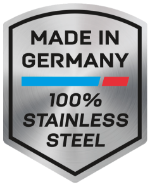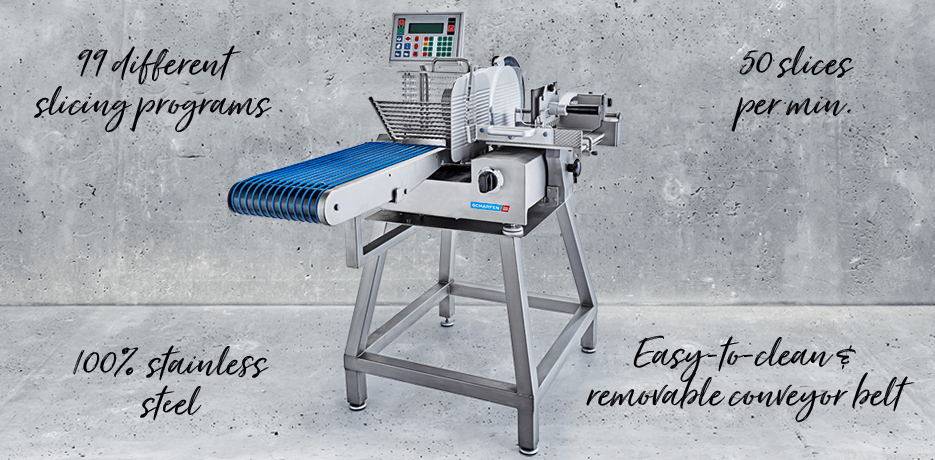 VA 4000 AT
Major league power slicing on small space
Features
Fully automatic slicing and stacking
Large capacity on small space
User friendly display with various stacking options
Maintenance-free transmission drive
Precise slicing through separate gear motor for blade rotation
Removable conveyor belt for maximum output processing
Ideal productivity driver for high-volume fresh food departments
1-year warranty
Overall Dimension (l x w x h)
1270 x 853 x 1330 mm
Counter Space Required (l x w)
735 x 645 mm
Conveyor Belt (l x w)
880 x 280 mm
Carriage (l x w)
275 x 360 mm
Blade
330 mm diameter, hollow ground,
stainless hard chromed, stay sharp quality
Slice Thickness
0-10mm (invinitely variable)
Capacity
infinitely variable from 24-55 strokes/minute
Cutting Length
255mm
Cutting Height
195mm
Sound Level
<70 dB (A)
Sharpening Device
removable
Weight
ca. 130 kg
Voltage
3-phase or 1-phase, voltage and cycles as required
Power Requirement
0,6 kW
99 Slicing Programs
Stacking, shingling vertical, shingling horizontal, circle
shingling. All individual programs' parameters (article,
speed, thickness, stacking, shingling, etc.) can be saved.
Hygiene
All materials in contact with slicing products are 100%
stainless steel, easy to clean compenents, dishwasher-
proofed chain frame.
VA 4000 AT Teflon
Ideal for slicing cheese and fresh meat. Ideal for slicing cheese and fresh meat. Carriage, thickness plate, blade guard and blade are tefloned.
Easy and precise slicing, no smearing or sticking. Quick and easy to clean with dry cloth.
Large Carriage
With additional counter and infinitely Ideal for slicing large products.
(l x w): 275 x 530mm.
Customization on demand.
Special End-piece Holder
Zero waste device. Guarantees 100% slicing output of the product.
Interleaver (VA 4000 AT P)
Connection to automatic interleaver and/or wrapping machines. Further information upon request.
Without Conveyor Belt
Please see VA 4000