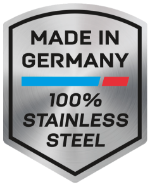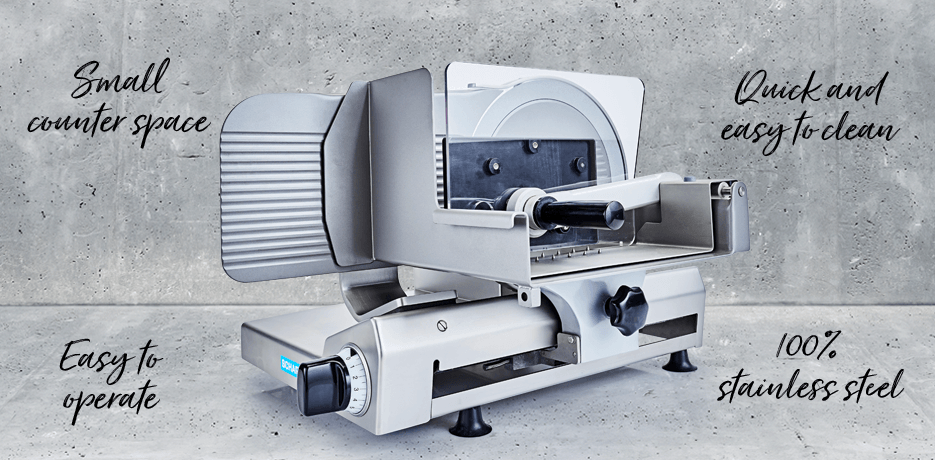 V 330 F
Vertical champion on small space
Features
Manual slicing for supermarkets and delis
Ideal for slicing large food products, e.g. Ham and big pieces of meat
Steel baseplate for extra protection
Extremely robust and low maintenance
1-year warranty
Overall Dimension (l x w x h)
640 x 590 x 430 mm
Counter Space Required (l x w)
380 x 480 mm
Blade
300mm diameter, hollow ground, stainless hard chromed, stay sharp quality, toothed blade for bread-cutting available
Slice Thickness
0-25 mm (invinitely variable)
Cutting Lenght
250 mm
Cutting Height
220 mm
Sound Level
<70 dB (A)
Sharpening Device
removable
Weight
48 kg
Voltage
3-phase or 1-phase, voltage and cycles as required
Power Requirement
0,35 kW
Hygiene
All materials in contact with slicing products are 100%
stainless steel, easy to clean components
Power Slicing
High power transmission to the blade due to PowerGrip belt drive
V 330 F
Ideal for slicing ham and big pieces of meat. With large carriage.
Overall dimensions (l x w x h) 730 x 650 x 430mm, cutting length 320 mm, carriage including metal feeding plate
(l x w) 350 x 320 mm.
V 330 Teflon / V 330 F Teflon
Ideal for slicing cheese and fresh meat. Carriage, thickness plate, blade guard and blade are tefloned.
Easy and precise slicing, no smearing or sticking. Quick and easy to clean with dry cloth.
V 330 scale
Version with scale and electronic counter
V 350
Blade 350mm diameter, cutting height 235mm