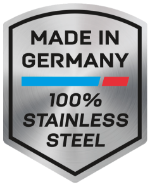 Premium Quality.
The slicer's best friend.
High-End
PERFORMANCE
Our machines achieve maximum capacity with minimum compromise on material and engineering. They work with a reduced back stroke, perfectly aligned with the size of the slicing product and thus resulting in more slices per minute.
Extreme
PRECISION
Scharfen machines strive for a clean and consistent processing of your slicing products with zero waste. Our scale settings enable perfect product handling whether it is shaving turkey or slicing triple-thick cut bacon. Our carriage setup guarantees 100% use of the product.
Maximum
FOOD SAFETY
We never compromise on health and hygiene, even if it takes an extra mile in terms of mechanical engineering. All materials in contact with slicing products are premium stainless steel made in Germany, the finest environment for processing food. We especially design our machines for easy cleaning, to save you time and stay pristine.
Longlife
DURABILITY
Scharfen machines are built to last. As stainless steel keeps surfaces unsoiled for decades, we only use premium solid materials for all components in order to reduce the need for service to a minimum. Our mission is to keep your total ownership costs as low as possible.
SCHARFEN PRODUCTS
at your service